Aluminium and Steel Front Entrance Doors
Front entrance doors constructed of metal – typically steel or aluminium – give the ultimate finish in all areas: an infinite range of styles, the most secure doors available and incredible levels of thermal and acoustic efficiency can be achieved.Our two main suppliers for these are Ryterna Entrance doors and the Garador FrontGuard range. The brochures for both suppliers are available in the 'Brochures & Downloads' section at the bottom of the page and an overview of what they can offer is below: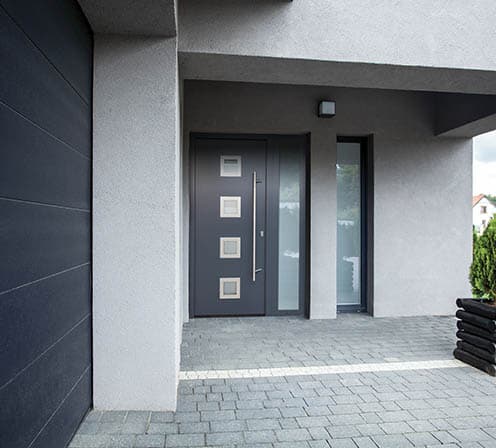 Book Your FREE Survey Now!
Check out the key features of our doors below:
Security Metal entrance doors are extremely secure in all profiles however in the 80mm and 100mm thicknesses the doors are reminiscent of those on a bank vault but so exquisitely balanced on their hinges that they glide open and closed with minimal effort. With fully customisable locking specifications, including Secure by Design (PAS 24) specifications, the doors come with 5 point locking plus hinge pins as standard and you can further enhance the door to suit your environment. For those who find using door handles a hassle they can also be specified with electronic locking controlled by remote, finger print scanner or transponder key.
Style With an enormous range of styles available from their extensive ranges and with a complete suite of RAL colours available and any colour or surface finish available on request (from Ryterna – Garador have a set range of colours and finishes), a vast range of handle, window and hard ware options the doors can be made to match any aesthetic. The window and stainless decal finishes, routed flush to the surface of the door on the Ryterna doors, have to be seen to be believed. Where required, the doors can blend seamlessly with Ryterna and Garador's own range of excellent garage doors, as well as the core styles of the majority of garage door manufacturers, for a cohesive look across your home. For those who want to specify their own look you can treat the front entrance door leaf as a blank canvas for your creativity and design to your own specification. Unique designs can also be continued on suited garage doors. If needed the doors are available with customisable transom lights and side elements in a variety of glazing types to give the finishing touch to your door.
Energy Efficiency All the doors more than conform to current Building Regulation requirements but U Values of under 1W/m2k are achievable plus with Ryterna's innovative magnetic thresholds, which pull tight when the door is closed, you can be assured that your home will keep the temperature you want inside and the elements outside.Coupled with triple glazing on the Garador FrontGuard Plus and Ryterna 80mm and 100mm variants, the door is as effective at maintaining a comfortable temperature in your home as the weather is variable. With a projected life span of many decades and easily maintained with a wipe clean finish you can be assured of peace of mind for a lifetime.
Check out the brochures in the tab below for more information and to view the range. If you would like to discussion more detail please just give us a call or pop into our showroom to check them out and view the doors in real life along with a complete range of samples.