ROLLER GARAGE DOORS BRISTOL
Bristol Roller Garage Doors
At Up & Over Doors we offer two main types of roller doors: aluminium roller shutter garage doors with built-in operation and single-skin steel rollers which are typically manual but can be automated. Both offer the practicality of needing minimal space in the garage, vertical opening, are both  available in a wide range of colours at one low price and both have excellent weatherproofing.
Insulated Roller Garage Doors:
Increasingly the most popular door in the marketplace, insulated roller doors are constructed from two layers of aluminium with a foam core and are automated as standard with remote control. They offer great security. From our preferred supplier, AlluGuard, they come in the police-preferred 'Secure by Design' specification with an alarm as standard. With two profiles of door –the 77mm and the 55mm – there is a door to suit virtually all garages with headroom requirements of 300mm and 205mm respectively.
Single-Skin Roller Garage Doors:
Whilst they do not have the insulation of the aluminium doors, these doors still offer great built-in weatherproofing, have an extremely robust outer skin of Plastisol which is available in a wide range of colours at no additional cost and can be motorised if desired. They offer a good budget alternative to an up and over door, are easy to use manually thanks to their in-built spring mechanism and, in their Mini format, only need 330mm headroom.
Why Buy our Roller Garage Doors in Bristol
Light and easy to use in manual or even easier with automatic remote control
Very safe with built in safety brake and edge
Good for domestic or commercial garages up to 5.2 metres wide
Great weatherproofing
Do not rust and require minimal maintenance
Insulated doors are available with windows
Guaranteed for up to 10 years
– Manual roller door prices start from £820
– Insulated auto 'secure by design' prices start from £1350
– Both prices are including VAT. Book your free survey now.
As a totally independent specialist, we work with all the leading manufacturers to give you the solution that suits you best, not simply offering you our own or affiliated brands. For further information take a look at the interactive image and links below:
Quick Facts About Bristol Roller Garage Doors
Hover over the numbers on the image below for the quick facts on Roller Doors
Additional Information About Roller Garage Doors in Bristol
Insulated roller doors are constructed from individual interlocking slats made from aluminium. When the door opens it rolls around itself and has a special enclosed housing to protect it which also contains the motor. The safety of you and your family is guaranteed by a safety edge and safety brake.
Single-skin rollers are made from a continuous sheet of corrugated powder-coated steel with a Plastisol finish to the external face for durability. They operate in much the same way as their insulated cousin, rolling up vertically around themselves when operated, but without the benefit of the housing so they remain exposed.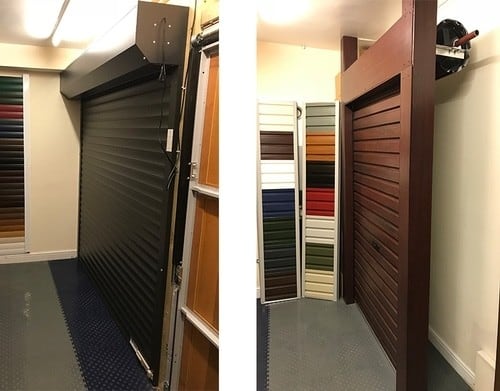 Mon - Fri:  9am  -  5pm
Sat: By Appointment