SIDE-HINGED GARAGE DOORS SALISBURY
Side Hung Garage Doors in Salisbury
Side-hinged (or as they can be known, Side-Hung) garage doors open in the conventional way with butt hinges attached to the door frame on either side – decorative strap hinges can also be used either for function or simply for aesthetic purposes.
‍
Often considered to match the traditional glazed look associated with 1930s properties they are experiencing a comeback in recent years with new modern and insulated doors available constructed using sectional door panels.
Requiring the least internal space of any garage door they suit those who need every inch of space. Available in steel, timber or GRP they come in a diverse range of styles and finishes to suit all tastes with or without windows. Offered in a 50:50 or 1/3:2/3 configuration, side hinged garage doors suit a range of uses.
Very secure as standard, they can be further upgraded to suit individual requirements. Please be advised that if your drive slopes up away from the door opening, then it is likely that this door type is not suitable!
Why Buy Our Side Hinged Garage Doors in Salisbury
The best way to achieve a traditional look but also available in  modern styles
Very easy to use
Great to maximise internal space
Three main materials – Timber, Steel & GRP
Simple construction for easy maintenance and longevity
Security and automation can be added and upgraded
– Prices for side hinged garage doors start from £900 including VAT
Book your free survey now
As a totally independent specialist, we work with all the leading manufacturers to give you the solution that suits you best, rather than simply offering you our own or affiliated brands. For further information take a look at the 'Door at a Glance' interactive image and links below:
Key Features of Salisbury Side Hinged Garage Doors
Hover over the numbers on the image below for the key features of Side Hinged Garage Doors
Additional Information about Side Hinged Garage Doors in Salisbury
For the most reliable doors, single-skin steel or insulated steel doors offer the least maintenance of any door type by virtue of their very simple hinged mechanism. For a modern look, or even for the 1930s look without the maintenance of timber, coupled with excellent security and weatherproofing, these are the doors to go for.
You can specify steel side hinged garage doors in a variety of colours, finishes, vertical, solid or ribbed designs and with added windows and matching side doors.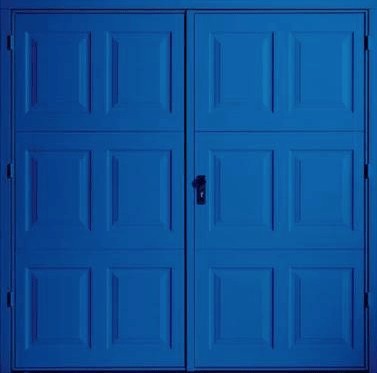 For those in search of the perfect aesthetic twinned with strong functionality, wooden side-hinged doors are a great choice. Available either stained in a tone of your choice or fully finished in a colour of your choice, as they are made by hand by craftsman there is not limit to the styles available. Alternatively, Garador's steel chassis coupled with wooden infill gives the best of both worlds – the beauty of timber and the strength and low maintenance of a steel frame and chassis.
We can advise on many options to enahnce security, design and type of frame or threshold.

Mon - Fri:  9am  -  5pm
Sat: By Appointment