Front Entrance Composite Doors
Composite doors are constructed with external skins of fibre glass sandwiching a thermally efficient foam or Nordic timber core to provide an excellent barrier between your home and the outside world. They are also available with a fire-rated core and self-closing mechanisms as required. Whether your're looking for traditional or modern composite doors, we have something that's sure to appeal.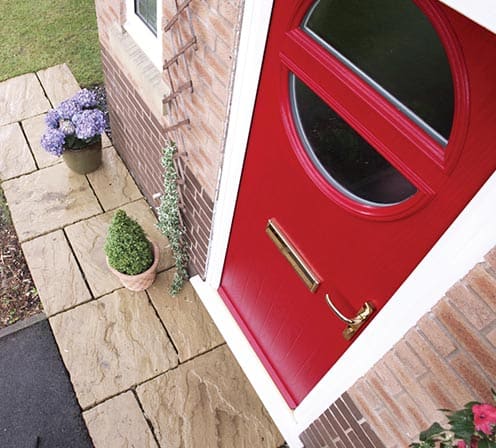 Book Your FREE Survey Now!
Check out the key features of our doors below:
Security Security is top of the list for all of our doors. As standard all the doors have a locking strip routed into the edge of the door leaf, come complete with multi-point locking and have the coveted Ultion lock cylinder which, upon registration of the door, provides complete peace of mind with a guarantee to replace the door and give you £1000.00 if the cylinder is overcome. For those who want to go the extra mile there is an optional Secure by Design upgrade available.
Styles Composite external doors are very versatile and come in a huge range of styles to suit all homes, both traditional and contemporary. Personalisation of your door is easy with a huge range of window styles, types of glazing, hardware (such as door handles, letter plates, etc) and door leaves available in a complete range of colours and timber effects to blend seamlessly with the palette of your home.
Energy Efficiency All of our doors exceed the current Building Regulations for energy efficiency, which came into force in October 2010. Under the legislation, achieving  a U-value of1.8W/m2K (1.6W/m2K in Scotland) or less. The door's U-value is a measure of its energy efficiency, and the lower the U-value, the more energy efficient the door. Choosing thermal glass on our doors makes them even more energy efficient, with an ultimate U-value of just 1 W/m2K.
For more information, including composite door prices, please see the brochure(s) in the tab below or get in touch via the booking form.